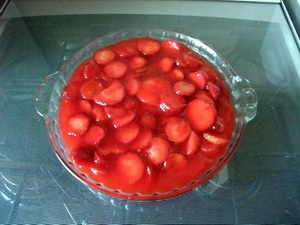 Pams Sugar Free Strawberry Pie (Serves 6-8)
Ingredients:
4 Cups of sliced Strawberries
2 packages (0.8 oz package) Jello Sugar and Fat Free cook 'n' serve vanilla pudding
2 Packages (0.6 oz package)Sugar and Fat free Strawberry Jello
3 Cups of Water
Method:
Spray your pie plate ( I spray mine with Pam Spray) Any low calorie cooking spray will do
Slice 4 cups of Strawberries and place loosely in pie plate
Mix 2 pkgs of Sugar free fat free cook n serve jello vanilla pudding with 3 cups of water. Cook according to directions and add 2 packages of sugar free fat free strawberry jello slowly. Mixing well as you go.
Pour mixture over strawberries and refrigerate until well set.
This has virtually no calories and as I said totally sugar free.

Hope you like it. We do!

You can make this with the regular jello and the full strength vanilla pudding. I don't because I'm diabetic and I can eat the whole thing if I wanted to without it bothering my blood sugar. When you cook the pudding mix...use only the water in this recipe.