BITS 'N' PIECES
Throughout the ages of time, we tend to forget some of the places and things that we have been to and things we have seen. I can remember bits and pieces of places and things but I would love to know so much more.
I have included a few pics of memorable places and things, that although not all of us have seen, they may spark a question or two by the nieces and nephews.
I hope you enjoy them!

The Tidwell fireplace was built by my grandfather Henry Samuel Tidwell. Uncle Lonnie and Aunt Faye live on the homeplace, and although the house was torn down long ago, the fireplace remains.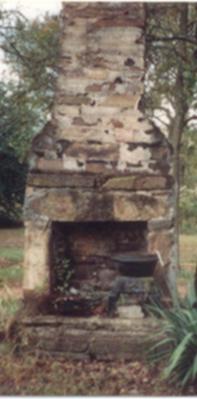 I have no idea when this was built, but doesn't it make one wonder what sort of supplies were on hand at the time. The knowledge that one would have to have in order for it draw properly, and not fill the house with smoke. Better yet how many of our ancestors stood before this warmth and discussed the day, or whatever. How many children has it seen play on its hearth.
Aunt Lillie told me that music was in the Tidwell family as well as the Webb side. We never had a chance of not being musical. Its amazing the heritage that we have.

The next two pictures are of Grandma (Webb) Stanberry's home place. The first one I can remember my cousins (Kent & Alfred Stanberry) and I crawling up under the porch just waiting for Daddy and Uncle Jack to throw their cigarette butts out in the yard. One of us would run out and get it and take whatever puffs we could get off it. Oh me..talk about getting sick! These were hand rolled "Prince Albert" ciggies which of course meant no filters.
The front porch ran all across the front of the house. I can remember the water well and drawing up a bucket of water (well trying to anyway) and the huge iron wash pot out in the yard.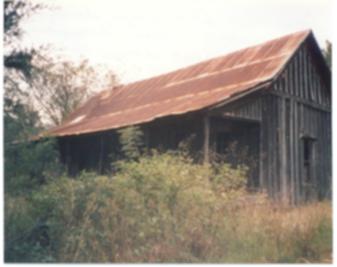 The other side of the house gives a view of the kitchen side as well as the room off the breezeway. The kitchen held a wood burning cookstove and an old ice box (and I do mean "ice" box. Grandma had no refrigerator for years. The ice was bought off of an icewagon that came around every so often. Just a block of ice to keep things cool.
The room off the breezeway was a bedroom. I can't remember if it had one or two beds in it, probably just one. Anyway, as a child this house was huge in my memories, but when I actually seen it in '91 I couldn't believe how tiny it was. There wasn't a doornob on the bedroom door, just a hole with a piece of cloth ran through it and a block of wood with a nail in the center of it that you could turn and keep others out.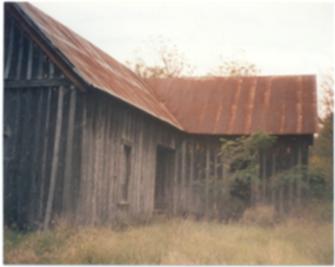 The big opening on the left side of the picture is the breezeway and the opening on the right or straight ahead was the kitchen. Mmmmmm, lots of good meals were cooked in that house!
Can you imagine all of us and Uncle Jack's family in this house? Now this must be where those "Baptist pallets" came in. All of us sleeping on the floor. Or maybe Grandma just put another nail in the wall and hung us there overnight.

Now let's all take a peak at our grandfather's from both sides of the family. I would like to introduce my grandfather, William Franklin Webb.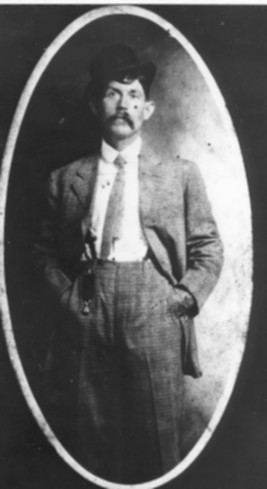 As a note of interest, our great grandfather John Pearson Webb was born in 1844 and died in 1926. He is buried at Olton Cemetery, Lamb County, Olton, Texas.
He fought in the uprising of the North & South and rode with General Price on his raids through Missouri.
Next is our great grandfather Aaron Anderson Tidwell. He owned and operated a grocery store. He was married 3 times and one of then was Nancy Walton. Hmmm, wonder if we are related to the Waltons in someway. The clothing style itself makes a statement of the days gone by.

I was raised with a gentle, loving hand, but that same hand could be very determined at times. Our little 5'2" Mother could pack a wallop when it became necessary, there is a saying, "Dynamite comes in small packages". Well, that was Mother and when she had had quite enough of our orneriness she let us know about it. She used to have a belt that had "Bob" printed in the back of it. I sure wished you had taken that belt home with you, my dear brother, 'coz that's the belt that was used on my beeeeeehind when Mother had "quite enough"! Looking back though she never whipped me unless I needed it and I should have gotten it more often...Okay brothers!! be nice now ya'll don't have to agree with me on this.
We all learned at Mother's knee to always love and help each other. This teaching came to the fore one day last August at my house when I was in BAD need of a roof. Everyone rallied around and brought campers, food, tools, expertise, and lots of love to my home.
Brothers, sisters, sisters-in-law, nieces, nephews and some great nieces and nephews all joined hand in hand and got to work putting a new roof on my house. Thanks to all of you for all the hard work that you have done. It hasn't leaked not one drop!
Pictured below are the "Webb's at Work!"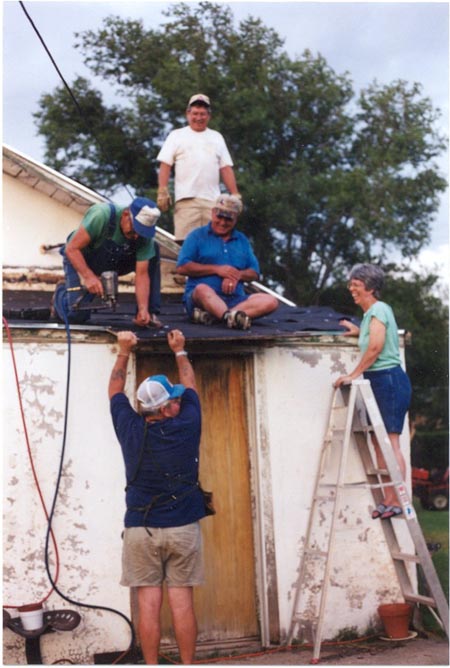 Larry is standing, Bob is kneeling, Sam is sitting, Tempey is on the ladder, and Al is reaching up.

As time marches on, we all grow up, marry and have a family of our own. As far back as I can remember we have had family gatherings for special holidays. Our first official family reunion was in July 1965. The following is the news item in our Bovina Blade 35 years later.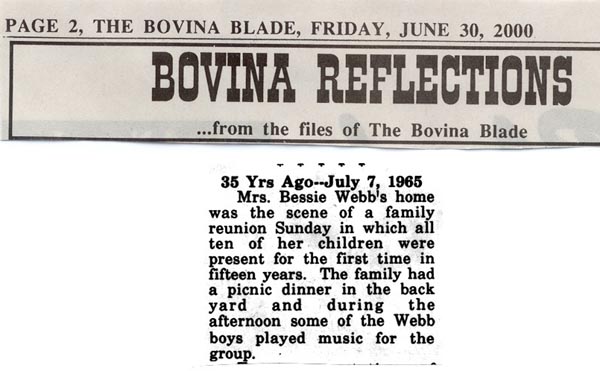 I truly hope that you have enjoyed these litte bits and pieces about our family and our ancestors. The pages are long but they were created with my family in mind. Some of the pictures, stories, and such our younger generations have never seen. So enjoy!