IN LOVING MEMORY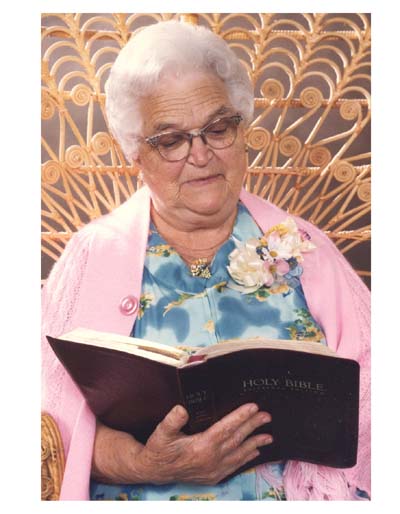 Bessie Leanna Adaline (Tidwell) Webb was born on September 2, 1909 in Danville, Arkansas. She later shortened her name to Bessie Lee. Due to the death of her mother, Mary Clifton, she was soon to become an alternate Mother to her younger brothers and sister at the young age of thirteen years old.

Henry Samuel was born on September 10, 1878 and Mary Clifton was born on January 15, 1880. They were married on January 19, 1902. To this union nine children were born: William Lee, Elmer, Samuel, Bessie & Jessie (twins), Lonnie & Fonzo(twins), and Tommy & Lillie (twins).
I am pleased to present my grandparents: Henry Samuel and Mary Clifton (Fowler) Tidwell.
Grandpa Tidwell was a sawmiller and owned a sawmill behind my Great Grandpa Tidwell's store. You can see a picture of my great grandfather, Aaron Anderson Tidwell, in my photo album of "Grandparents, Aunts and Uncles.

Mother and Daddy married when she was 17 and he was 16 years old. They had 10 children, five boys and five girls.
Mother cooked and did laundry on a rub board (that is until she got her wringer type washing machine), planted a huge garden each year, and canned everything she could get her hands on. She made our clothes, sometimes just dreaming up a pattern. My sister Anna Lee could do the same thing. NO matter how busy Mother was she always seemed to give us her undivided attention.
We moved to Texas in the early 1950's, and Daddy worked for a farmer at Friona, Texas. Things changed for our family after a few years and we moved to Bovina. Mother took in all sorts of jobs to make a living for us, cleaning houses, ironing, babysitting. As soon as us kids got old enough to make a hand, we too found jobs. Larry hoed weeds for a lady up the street from us, this may have been his first "job" and later went on to have a full time job at the local grocery store. Joyce I know did lots of babysitting and later I remember we hoed cotton. It took all of us pulling together to keep a roof over our heads. Whatever we kids earned we gave to Mother to help ends meet. That lady could stretch a dollar till it hollared. We never lacked for the necessities of life, but the fun things we wanted were few and far between. I can remember her sitting at her tredle sewing machine making our dresses. As time goes by, those memories and so many more become even more precious to me.


Mother was a good christian woman and as far as I know her faith never once diminished. Through all of the hard times she kept a smile on her face and always told us, "God will provide and give us the means to provide". This was proven many times over throughout the years.
Joyce said in a letter, "I remember Mom was always there for us. No matter what went on in our lives, if she was disappointed in the choices we made and knew we had strayed from her teachings she was still there for us and she loved us".
Mother was well known throughout town as the "grandma" to all children. She babysat with so many children at home as well as at church. She just had that special something that touched each and every person that she came in contact with.

Bessie Webb left her children a fantastic legacy. She taught us so many things in life, paved the way for the adults that we have become today. Instilled in each one of us the knowledge family is the utmost in our lives, gave us the ability to think for ourselves. We were taught to be honest in all that we do and to LOVE each other. Our family traditions are being carried on with our "Webb Reunions" and our "Family Christmas'".
I couldn't have been blessed with a better Mother. She was the backbone of my life and was always there when I needed her and later on when my children needed her. I can only hope, that I can be half the lady, mother and grandmother that she was. Mother...forever in our hearts and minds.