In Memory of Polly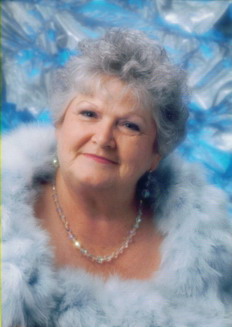 Pauline Eudane Webb was born on October 6, 1933 in Arkansas. She was the third child born to Bessie and Hugh Webb and was probably the quietest of the whole lot! Polly definitely had her ways of doing things and making herself known though.
I can remember some of the stories she told me about her growing up years and she could get her paybacks on the tricks that the family played on her. Some of them were just so funny and I can see her sitting there telling a story; with tears of laughter rolling down her face.
One story to be remembered by all of the family was that when growing up Polly and Bob ran their own radio station. STRAIGHT from the kitchen sink in probably any house they lived in when they were young. I can't remember their call letters but I can assure that Bob could tell you what they were and they weren't WKRP in Cincinnatti either! The specialized signing off song was "Turn Your Radio On". They continued to sing this at each of our family reunions and you could see the pure pleasure of happiness on Polly's face the whole time she was singing. It is just too bad that recorders weren't prominent in our family back then for I'm sure it would have been a treat to hear those two as youngsters singing their songs and banging the pots and pans around.
I'm not sure when Polly moved to Texas or if she came before the rest of the family or not. However, she ended up in Bovina, Texas, and got married. On December 24, 1953, Polly and Alfred Mills married. To my knowledge Alfred always worked for the highway department and the first place I can remember them ever living was in the basement of Laverne Stevens house just across the street from the Post Office. To my knowledge this house is still standing. Later they moved into the house that Polly raised her family in and is now situated across the street from the Bovina Supermarket.
The picture below is one taken of Polly and Alfred, I'm not sure but I think this may have been their wedding photo. They make a handsome couple don't they? Little did they know that they would eventually be the proud parents of four beautiful daughters.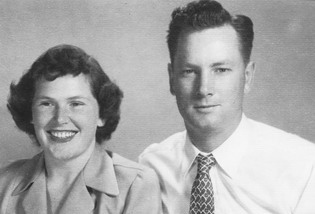 As life would have it, an unfortunate event happened that changed Polly's life forever. On March 24, 1971 Polly's true love passed on. As I mentioned earlier, Alfred worked for the highway department. An accident occurred and he was hurt very badly. Little did we know that it was Alfred's time to go to his heavenly home.
I had the honour of working with Polly for several years at Excel in Friona. Our boss, Harry?, told the lady that I was replacing to be sure and clean out her desk of all jokes because "Polly's sister" was now hired and he didn't want anything to offend me. Little did he know that I was so different from Polly. We got a good laugh out of that as time went by. I can remember one afternoon we were all sitting around the office taking a break. There were several ladies that we worked with and the subject of families and the size of them came up. Polly sat there and with such an innocent look on her face said, " I have no idea why Mom and Dad had so many kids. Do you know Pam?" Well, those of you that know me know that I can't resist pulling a good one, I have been taught very well by my other brothers and sisters. I tried to feign an innocent look and told her "Well, yes I do" and she said "Oh really? Well tell me then. " I had to work to keep a straight face and said "Well, Mom was hard of hearing ya know. Her and Daddy would go to bed and Daddy would say "Bessie? Do you want to go to sleep or what? Mom would say "What?" Polly sat there for a second and said "Oh really?" Then it dawned on her what I said, the entire office cracked up and with tears rolling down her face she looked at me and said, "Pam, you nut! Only you could come up with something like that!" Thereafter, it was a standing joke for the two of us.
Polly retired from Excel after many years of hard work. A party was given for her at the Church of Christ in Bovina. Her daughters got this all worked up and loads of memories were passed on to those that attended. The picture below was taken of Polly with her daughters. Pictured from left to right are Deborah Mills Goldsmith, Kara Mills Fulcher, Polly, Patti Mills Gencarilli and Karla Mills Withrow.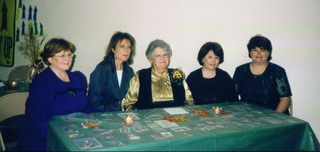 Prior to Polly's retirement, Mom had passed away. I decided that we sisters should all get together each year in honour of Mom for Mother's Day. Each year we would go someplace and have dinner together and for a time or two we dressed up in various forms of costumes. We had such wonderful fun! As you can see from the following photo we dressed for the 50's and 60's and had dinner in a restaurant that fit our way of dressing too! Even the other customers got a kick out of our being there and thought it was grand that we did something like this.
The next photo was once again at a Mother's Day Party. This was taken at Polly's home just before we had our evening out. June had made us all hats and we dressed up in these but "not" out of the house. haha We have had many years of our "Mother's Day" parties or as they are now known as "The Sisters Party". We are getting fewer in number now but hopefully they will continue as the years go on and perhaps even our daughters will carry on this wonderful tradition.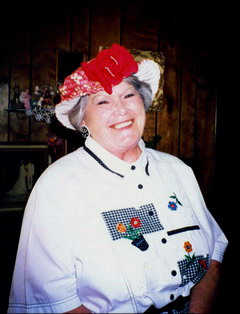 Polly came out of retirement and started working at the bank in Bovina. This was something entirely new for her but she enjoyed it. I'm not sure just how many years she worked there but they were all good friends to her and she seemed to enjoy her job very much.
Polly came down with what we at first thought was the flu but later knew it was much worse. None of us wanted to believe it was possible that we could be losing yet another sibling. We know that all will go according to "His" plan but we needed the understanding or asked to be able to understand what was going on. No answers were forthcoming and the end results were that Polly passed away in January 2005. Another sibling has gone home and we have yet another cross to bear on our lives. We all miss Polly and have a hard time dealing with it as we did with the others that we lost.
Polly had lived a full life as we know very well. Her family meant the world to her and she had so much love, pride and joy in each of her daughters and grandchildren. For each and every accomplishment that her daughters made she was telling us about it and the same went for her grandchildren. Polly was full of pride on the beauty of her children and the fact that each of them had grown up to become wonderful women was written all over her. When one of her children were coming for a visit with her; everything was put on hold for Polly always had lots to do to get ready. She cooked and planned for days on end when she knew one of her children would be there. All stops were pulled out for them and she relished every moment of the preparation and the visit.
I would like to share a poem that was written in memory of our lovely sister.
There are many things in life

we cannot understand

the workings of this world

aren't meant for mortal man.

The rising of the sun

the setting of the same

the ebb and flow of tides

work on the power of His name.

So who are we to question

they mystery of His ways

who are we to argue

with the numbering of our days

That God knows what He's doing

in what I must believe

Or how shall I be strong enough

when it is time to grieve

If he can hold the universe

in the palm of His hand

Then certainly it's no question

we're safe within his hand.

By Twila Gorley

January 11, 2005
My memories of Polly are close to my heart. As sisters do we had our times of happiness and sadness but nothing
could ever erase the love we have for each other. Polly will always be cherished and loved in our hearts forevermore.