Mike's Cassoulet
An amazingly wonderful meal for lunch or dinner
Cassoulet is a rich, slow-cooked bean stew or casserole originating in the southwest of France, containing meat (typically pork sausages, pork, goose, duck and sometimes mutton), pork skin (couennes) and white haricot beans.
Prep time 15 minutes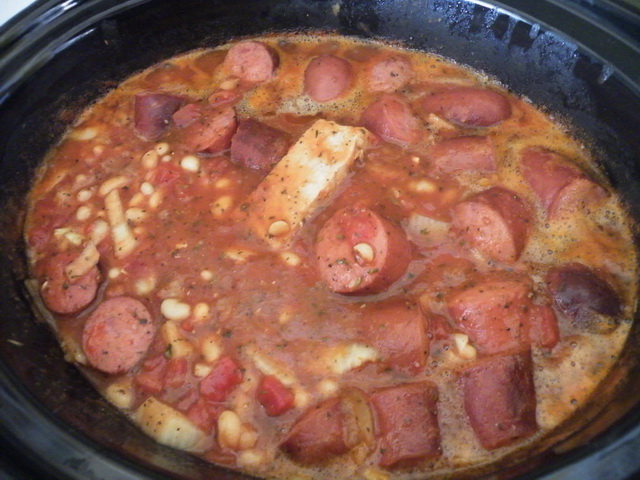 Cook time 4 hours in slow cooker
Serves 6
INGREDIENTS

1 x (1lb) tins chopped tomatoes
3 x (1lb) cans Navy, Great Northern, or Cannellini beans (I prefer Cannellini)
1 large onion
1 clove garlic
Pack of 6 smoked sausages
2 large, fatty Pork Chops
Bouquet Garni
1 Chicken stock cube
Salt
Black pepper
Method
Put the all beans, tomatoes, stock cube and bouquet garni in the slow cooker and set for 4 hours cooking. Finely dice the onion and garlic and add to the slow cooker. Put the sausages with a small amount of olive oil in a frying pan (skillet) and cook until done. Slice the sausages into rounds and add them to the bean mixture. Add the pork chops to the pan and cook until browned. Cut up the pork chops into large pieces and add to the bean mixture along with the pan juices.

Cook for 4 hours, remove the bouquet garni,

Dish up and enjoy!!